WELCOME TO COZUMEL MARINE WORLD
Cozumel is one of the top destinations for diving in the world, with clear water (visibility over 100 ft), and warm water temperatures of 78F to 84F.  You´ll enjoy incredible coral formations, great walls, canyons, and shallow reefs full of colorful fish, turtles, eagle rays, moray eels, sharks, the endemic "Cozumel Splendid toad fish", and many more, making this the dream dive vacation we want you to have.
You don´t have to be an expert to come to Mexico and dive. Cozumel has dive sites for all skill-levels, from beginners to experts.  For non-certified divers, this is a great place to start your diving career. Some of the reefs we visit are: Colombia, Palancar, Santa Rosa Wall and Punta Sur.
For the non-divers, the Island has many attractions and activities, including snorkeling, Mayan Ruins, dolphin encounters, museums, shopping, great food, nice beaches, a golf course, and more, making Cozumel one of the best vacation destinations for the whole family.
For Scuba Diving instruction – whether you are learning to dive or pursuing advanced certifications – your diving education with "Jorge Marin" will be the best complement of your dive experience while you are here. Cozumel Marine World provides a relaxed atmosphere, personalized service, multilevel computer diving, specialty dives, and nice, small groups.  We also follow all current safety procedures, and always have on board the DAN oxygen equipment, first aid kit, harbor radio contact, and cellular phones.  You will have a wonderful dive vacation to remember.
COZUMEL MARINE WORLD OFFERS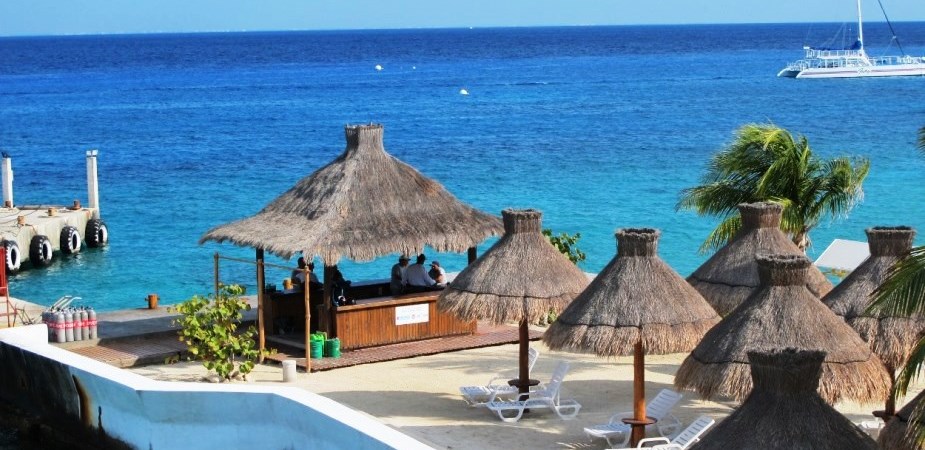 Scuba Diving
Diving Certifications
Instructor Training
Customize Diving
Computer Diving
Multilevel Diving
Small Groups Diving
Padi Pro
Advanced Diving
Specialty Dives
Drift Diving
Deep Dive
Shallow Dive
Coral Reef
Dive Procedure
Night Dives

The BEST dive shop on Coz hands down. The staff is friendly and fun. You can tell they care about their clients like family. They want you to have a good time so they take the time to get to know your diving knowledge. They don't push you to do things you aren't comfortable with. Be prepared to see some awesome stuff when Cozumel Marine World is on the boat!
Excelente servicio y muy profesionales. Alex y todo el equipo son súper amables y te ayudan a planear la mejor experiencia.
Wonderful staff! Great dive trip for all levels of divers. Mario was an awesome dive master.
Cecilia Crawford
2023-06-30
It is an amazing outfit. Always professional and customer oriented. Owners are always around to make sure all is in order. Nitrox available.
Loved diving with this group! They came highly recommended by dive friends and I now agree with their assessment 👍 My daughter and I completed our AOW course with them and Gustavo was our dive instructor - such a great guy and can't wait to dive with him again another time! Now if I can only sip my air like him - ALL of them! thanks for the great dive guys! Jorge - thanks a MILLION for finding me supply hose with the larger connector for the Air2 - I thought I was screwed but he followed through and found me a hose on loan for the week! 👌👍
Great experience doing final certification dives. Jorge was professional, fun and very thorough. Extra shout out to Eduardo who gave us food and experience recommendations and took care of our personal belongings and taught us how to taco our gear! So much fun!
We dove 2 days with these guys. Had Jaime on the first day and Manuel the second day. Both were awesome guides who clearly know what they are doing. The reef was amazing and the highlight of our whole trip was doing the C53 wreck dive (and having the submarine come by)! It was my son's first open water dive after getting certified and he felt super comfortable with them. We will be back!
Alvanir Oliveira
2023-02-24
a equipe de guias de mergulho foi sensacional, com muita experiência de Clemente e Mario Nosso grupo de mergulhadores NAUI do Brasil ficou muito satisfeito com os serviços. Feita a sugestão para que se tornem afiliados da NAUI para receber mergulhadores da age cia pioneira internacional
We just spent a week diving from the Cozumel Marine World facility. We were a family of newbies (getting certified at the beginning of the week and doing boat trips at the end of the week). Needless to say, our group had some anxiety during our first dives, but the entire crew we worked with (Mario, Jaime, Fernando, Octavio, Manuel, Eduardo) set a positive and fun tone which quickly gave us the confidence to really enjoy the amazing diving in Cozumel!!! THANK YOU to the entire Cozumel Marine World team!!!
Would not recommend it
Awesome experience This was my first real dive experience went with Underwater Phantaseas for a week. Jorge and Manuel were awesome and I learned so much and really built my confidence and I'm even more excited to dive now. This is the place to go if you're a novice or an experienced diver.
Scuba diving with great service. Jaime dive master took great care of us for five days. Including a night dive. The dive masters had extra weights for those who underestimated. Made us feel like family. We went with a group of 25 from Joplin, MO divided into two boats.
Terrific experience We had the pleasure of diving for 2 days on a private charter with Gustavo. Not only was he an excellent dive master, safety was his first priority- added bonus- he was delightful to chat with. He has 35 years experience diving in Cozumel- which is exactly the resume of someone I wanted to dive with as an occasional recreational diver. The diving here lives up to its reputation. Great fish- 3 types of eels, tons of multicolored neon fish, a nurse shark,, great reefs with unspoiled colorful coral. I would highly recommend this dive shop. There are many to pick from- Jorge Marin runs a first class operation.
LizMinneapolis
2023-01-14
Do it right I have over 1000 dives and have dove all over their world. This dive operation is one of the best I've ever used. The staff is very professional and incredibly helpful. I was recently injured and the doctor advised diving as a form of physical therapy. Jorge and his staff took such great care to ensure I was safe and had the best experience possible. When I come to Cozumel this is the only shop I will consider diving with, they do it right.
Poor communication Tried to get hold on them via email to book some dives in November. Had to send a reminder after a week to get a first response. Then was referred to their sales manager Kathia who ignored about 5 of my emails. Never got any response from her. After two emails Alex, one of the owners, also didn't respond to my emails anymore. Apparently don't need any customers.
Outstanding ! I just completed TEC training with Jorge and José. These guys are upmost professional, experienced, highly skilled, generous of their knowledge, demanding, disciplined, and rigorous TEC trainers. It is incredible all I have learned and the self confidence I built up. I felt I was at the right place amongst professionals who were eager to do all the could to help me succeed. Thanks guys for outstanding training and challenging fun. NOTOX Rocks !
An Amazing Experience with Wonderful People! I have been diving in Cozumel for about 15 years, several hundred dives! I was absolutely amazed by this dive shop. I came to Cozumel Marine World to attend the PADI Instructor Development Course. The course was conducted by their two Course Directors, Jorge and Alex. Very professionally done, in a relaxed comfortable atmosphere and facility. They didn't just teach a course, they guided me to live it, and become a much better diver, and successfully become an Instructor. And as to the diving, I actually extended my trip an additional 8 days, so I could dive with them. Of all the dive organizations I have used in Mexico, in fact anywhere, they are NUMBER ONE in my book. I'm looking forward to many future adventures with CMW! By the way, I don't generally post reviews, but this outfit earned deserved it, I can't say enough good things about them!!!
Good Dive Shop With Poor Record-keeping Very good diver operation on the whole. Good variety of dive sites, dive guides were excellent. My one criticism is that the record-keeping in the front office is terrible. When you pay the marine park fee, don't ask for but DEMAND a receipt in writing and remember the name of the individual you paid. The shop will only accept cash payment, and with groups of divers they are very bad about recording who has paid the fee and who has not. As a result of their sloppy record-keeping I was asked to pay the fee 3 separate times, which I had already paid the first time.
Best Dive Operation In The Island Marine World is best dive Center in the island. Responsible and professional staff that go the extra mile for your safety and most enjoyable experience under water.
Worst dives due to lack of good communication and failure of safety Sadly it was my worst diving experience. In the beginning, everyone from the crew felt welcoming. While trying on my gear beforehand in the shop, I already said that my fins were a bit too big. I got smaller ones that were definitely too small. The third pair felt somewere in between, but they didn't have any other choice. So I guess you already feel it coming.. While descending during my first dive, I lost my right fin after a couple of minutes. There was only one instructor, and after a lot of signaling that I wasn't OK, he only noticed about 5 minutes afterward that my fin was missing. He did offer to give me his, but I noticed it would be way too big for me. So, with a strong current and passing through small caves, I finished my dive. I got more help from a fellow diver (that apparently owned his own dive shop in the US) than from the dive instructor. On the boat they only had 1 extra pair of fins that were too big for me. So I had the choice, dive with 1 fin or skip the dive. And as a cherry on top, they made me pay for the fin. After providing me with a bad size and offering no other options. Because I don't have a dive computer, the instructor had instructed me to stay by his side for the 3 minute safety stop. After completing this, he signaled (as comunicated on the boat) me that I could go further up. On the boat he told me that I didn't complete the safety stop. I was completely in shock, I had trusted him for my safety stop and had listened closely for his instructions.. So for the second dive, I asked for clear instructions. When it was time I used the manometer to determine the depth and then he would tell me when 3 minutes had passed. After a lot of signaling from him for me to go up, it turned out the manometer wasn't working properly and I was already low on air.. In conclusion, this was my worst experience due to lack of good communication and safety. This should ALWAYS be number one priorities when diving.